Who We Were; Who We Became
Danae Wellington and Guests
Saturday 25 November 2023, 14:30 at SADACCA
Free event booking not required
Details
Saturday, 25 November 2023, 14:30
SADACCA
Price
Free event booking not required
Guidance
Event runs from 2.30pm - 5pm
Poetry commission, Who We Were; Who We Became, is a love song threading together the memories, faith and culture of the Windrush generation. It captures their final moments before embarking on a journey in pursuit of a new life. Danae Wellington and Darshan Gajjar have made a short poetic film around the piece that forms a window into the Caribbean immigrant story.
Join us for poetry, film, music and an intergenerational panel of guests including: Decolonial scholar and activist Macole Lannaman, Service Director for SACMHA (Sheffield African Caribbean Mental Health Association) David Bussue, founder of Action Collective Yvonne Wray, Windrush elders and more.
There will also be time to network, browse a range of Black literature and to see the educational and cultural exhibit detailing Black history across the diaspora provided by Clinton McKoy and Leroy Wenham.
The film will be previewed one last time at Off The Shelf – Festival of Words before going into film festival circuits.
Kindly note that this event has been rescheduled from October. Please take note of the new location for this rescheduled event, which was orginally at Sheffield Town Hall.
Danae Wellington is a Jamaican-British poet and the Sheffield Poet Laureate.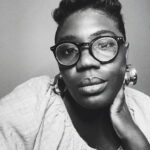 Supported by funding from Arts Council England
Poetry commission supported by Sheffield City Council